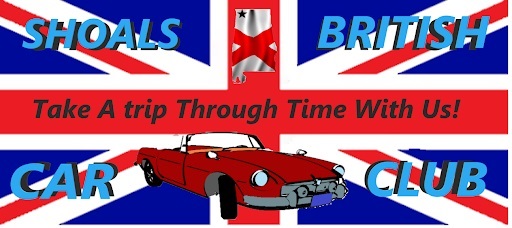 The Shoals British Car Club welcomes anyone who has an interest in British cars. Whether you're an old timer to British cars, a new owner, or just someone who wants to get involved, you are welcome to join us.
Our main goals are to:
1) Promote the preservation of British cars.
2) Promote the enjoyment of British cars.
3) Promote public interest in British cars.

Our monthly meeting is held the 2nd Tuesday of every month at Momma Jean's Resturant @ 5:30pm.

Events include our monthly meetings, our annual local car show, road trips, drive-outs, tech sessions, and other various events and activities.

The club is based in The Shoals, Alabama which is comprised of the 4 major cities of Florence, Muscle Shoals, Sheffield and Tuscumbia.

Please visit our Facebook page.